Separate Weekly Food Waste Collections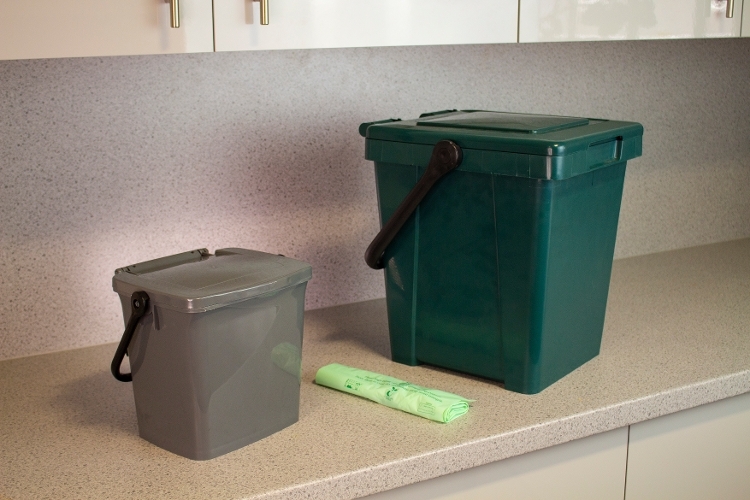 Weekly food waste collections started on 31 October 2022 for households who receive a kerbside collection and to households who receive a communal bin store collection (flats and communal dwellings) on 28 November 2022.
On this page:
Your separate food waste collections
Food waste is now collected weekly using a smaller, more secure container to encourage everyone to recycle food waste for a greener West Berkshire.
Collections take place on the same day as your black bin and recycling collections. You will be able to recycle the same types of food waste as our previous food waste collection service including:
meat and fish
fruit and vegetables
cheese and eggs
bread and pastries
uneaten food from plates
tea bags and coffee grounds
Please do not put bones from red meat, oils, liquids or fats into your caddy. Please do not put any packaging in the food waste bin.
Further details on what can or cannot be included in your separate food waste bin can be found on our

yes/no guide to food waste. [1MB] . You can find a video on how to use your food waste caddy on our YouTube channel, here.
If you need a green 23-litre outside food waste caddy*, please order one here.
*If you currently place your waste into a communal bin store, your block of properties will receive at least one purple 240-litre wheeled bin to share with your neighbours, instead of a green 23-litre outside food waste caddy.
For frequently asked questions on the new service, please visit out Food Waste Collection FAQs page.
The average family of four can save just over £60 per month by reducing their food waste. For information on how to reduce food waste, please see our webpage on Reducing Your Waste.
What happens to my food waste?
The food waste we collect from residents of West Berkshire is taken to our In-Vessel-Composter on Padworth Lane, Padworth in West Berkshire. Here, it is turned into a PAS100 certified soil conditioner for use by local farmers and landscapers.
Compostable Liners
Please only use compostable liners for your food waste. The kitchen caddies we supply have a 5-litre capacity. You can purchase liners from Compost Bag UK and most supermarkets.
You may also want to consider starting your own composter.
Replacement Inside Food Waste Caddies
Unfortunately, we're unable to replace inside caddies that have been broken or lost.
You can find a reasonably cheap replacement at larger supermarkets, in hardware shops or from an internet retailer.