Food Waste Recycling
We collect food waste in your green bin on your recycling day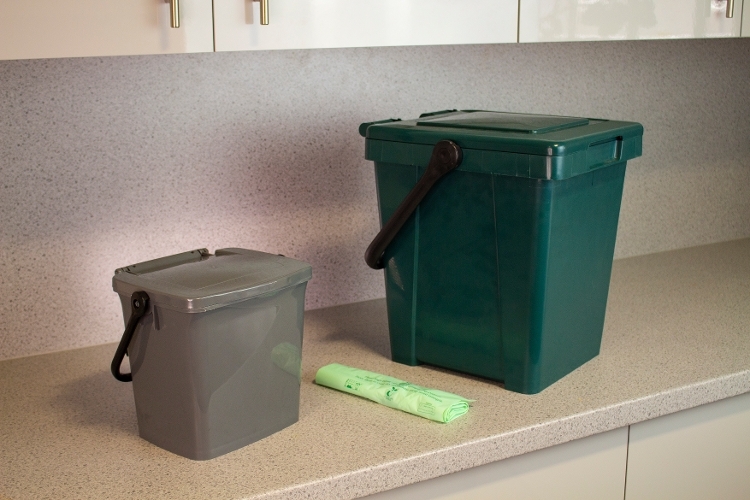 If you have not subscribed to the Garden Waste Service, you will be able to continue to put food waste in your green bin (except for communal properties). We will not empty green bins containing garden waste without a valid subscription sticker. You can subscribe for garden waste collection online.
---
It's simple to recycle your food waste - keep your caddy handy in the kitchen, add a compostable caddy liner and fill with food waste. When your caddy is full or after two-three days, tie the caddy liner and put it into your green bin. If you need a green bin you can request one here.
You can recycle most kitchen waste, including:
meat and fish
fruit and vegetables
cheese and eggs
bread and pastries
uneaten food from plates
tea bags and coffee grounds
Please do not put bones from red meat, oils, liquids or fats into your caddy. Please do not put any packaging in the green bin.
Our

Yes/No Guide to food recycling [991.44KB] shows you exactly what you can put in your food waste caddy.
The average family of four can save just over £60 per month by reducing their food waste. For information on how to reduce food waste, please see our webpage on Reducing Your Waste .
Compostable Liners
Please only use compostable liners for your food waste. The kitchen caddies we supply have a 7-litre capacity - we recommend using 10-litre caddy liners. You can purchase liners from Compost Bag UK and most supermarkets.
You may also want to consider starting your own composter.
Replacement Caddies
Unfortunately, we're unable to replace caddies that have been broken or lost.
You can find a reasonably cheap replacement at larger supermarkets, in hardware shops or from an internet retailer.