Football is returning to Faraday Road
We are delighted to announce the grand opening of Faraday Road Sports Provision
on
02 November 2023
12:31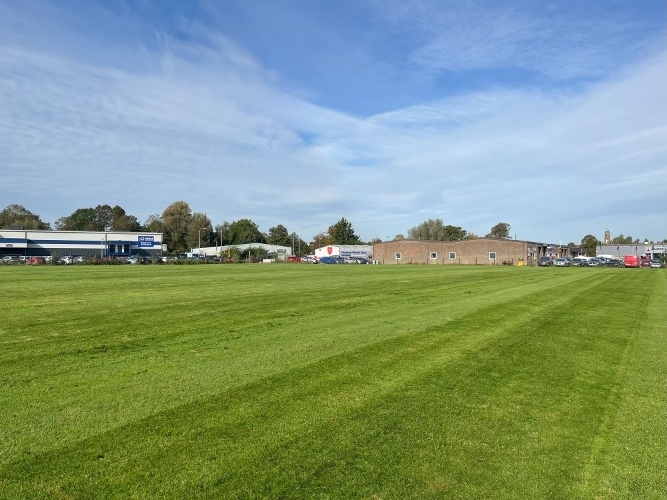 Faraday Road will open on November 19, 2023, with an exciting day filled with activities and celebrations for all.
After months of hard work from West Berkshire Council Officers, the pitch is ready for communities and groups to use the ground for their leisure, with the new temporary changing facilities and the football goals for both adults and children.
The grand opening festivities will kick off at 11:30am with welcoming speeches from Lee Dillon, Leader of West Berkshire Council and Lee McDougall (Newbury Community Football Group) on behalf of the partnership, offering a glimpse into the vision and dedication behind the creation of Faraday Road.
Following the speeches, the excitement continues at 12:00pm with the Under 8 teams from two Newbury clubs; AFC Newbury Boys and Girls FC versus CSA 07 FC - a real local derby!
These 5-a-side games will last for 40 minutes, so please come and cheer them on! After the games, all players will be presented with medals, donated by Newbury Community Football Group, to mark this special occasion of the re-opening of the football pitch.
During the games, we will also be hosting a fun penalty shootout, featuring Newbury FC goalkeepers. Everyone of all ages are invited to step into the spotlight and take a penalty (or have a go in goal!) for a chance to showcase their talents.
Players and representatives from Newbury's Senior teams will be there too, Newbury FC and Newbury Women FC.
Councillor Lee Dillon, Leader of West Berkshire Council, said:
"I am thrilled to see the grand opening of Faraday Road. We were committed to bringing this community facility back into action and it's wonderful to see the hard work of all those involved pay off. Faraday Road is widely recognised as the home of football in the district. The reinstatement of the ground this year has prompted reconsideration of the planned Newbury Sports Hub at Monks Lane and the current plan will not be progressed. In due course, further work will be done to consider what is needed at Monks Lane in the context of a wider strategic review of sports facilities across the district."
Lee McDougall, from Newbury Community Football Group (NCFG), said on behalf of the groups involved:
"It's brilliant to see football returning to Faraday Road. This opening is just the start, and we look forward to working with West Berkshire Council to bring a full stadium facility in the near future."
Refreshment vans have been invited to attend so there should be hot food and drinks to keep you warm and refuelled.
Parking at the site will be limited, but there are other parking facilities close to site including Wharf Carpark, Kennet Centre muti-storey, and Parkway Shopping Centre carpark. There will be bike racks on site available to park up bikes securely for anyone travelling locally.
Join us at Faraday Road as we come together to celebrate community, sportsmanship, and the spirit of competition.
We look forward to welcoming you to the grand opening of Faraday Road, where we'll kick off a new era of community and sports excellence!
Please note, should the weather change for the worse there will be a change of plan. Keep an eye on our social media and website for updates.

Click here for the official invitation! [1MB]
Last modified:
01 December 2023
08:33