The weather has finally played ball!
The weather is now working in our favour and we can continue with preparations for Faraday Road.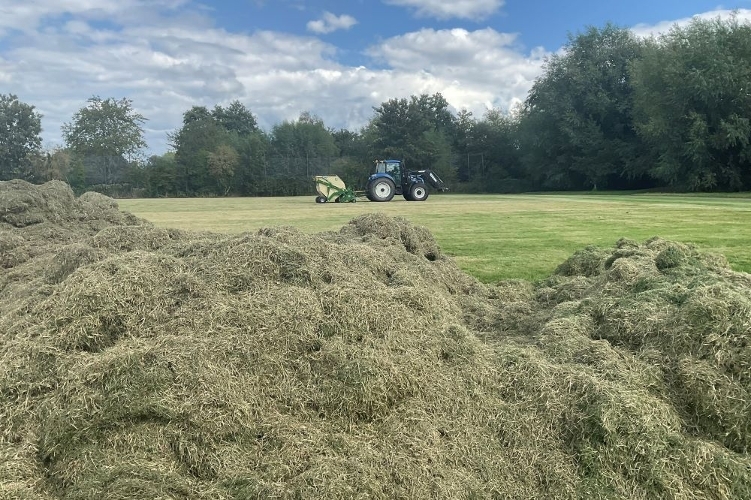 Those of you who have been following my blogs on the preparation of the Faraday Road pitch will recall the fact that I have been banging on about the criticality of the weather in the success of what were trying to do. The early part of the year was very dry, and whilst not going as far as doing a rain dance, I did keep my fingers crossed for some rain periodically over the summer. Well the summer duly delivered, firstly rain when required and then another period of dry weather for the next stage of preparation. Scarification.
Last week I was down at the pitch whilst Continental Landscapes had their tractor down there to scarify the surface.
Having killed off most of the broadleaved weeds the turf contained large quantities of dead thatch, including old dead grass and weeds. Scarification is simply the removal, using rotating 'tines' or blades all of this dead vegetation. These tines rotate at a very high speed and remove surprisingly large quantities of this dead material. The result is a turf which is mostly grass but also bare earth, into which we will now 'overseed'. Overseeding is the next stage of pitch preparation and is an operation which sows grass seed directly into the turf to bolster the grass which is already there, effectively replacing the dead material which has been removed with new, healthy grass. A hefty dose of fertiliser is also added as part of this operation. Fingers crossed we will be able to carry this out this week, although we really do need more rain again in order for the seed to germinate.
The pitch condition isn't our only focus of course. My highways colleagues have been very active arranging the preparations for the installation of a refurbished changing room module which is due to be delivered to the site later in September/October. You'll appreciate that its not simply a matter of dropping the changing room facility into the space created for the purpose and then making the facility available to the public. In the last couple of weeks, the utilities services have been trenched in, right up to the locations set aside for the module, whilst my drainage colleagues have been busy reviewing the condition of the sewerage outflows and pipes in preparation for connecting up the plumbing. There is still a bit to do in this respect, but we are expecting to make progress quite quickly.
I'll say a bit more about this engineering work in the next Vlog when the overseeding is being carried out. Watch this space!
---
Did you know that Paul is also providing regular updates from the site on our YouTube channel? This week's video is online - subscribe to our channel to see future updates alongside other new content from West Berkshire Council.
Last modified:
25 August 2023
10:29