More appointments at Household Waste Recycling Centres
Improved service for all as appointments and operating hours at our HWRCs increase for the summer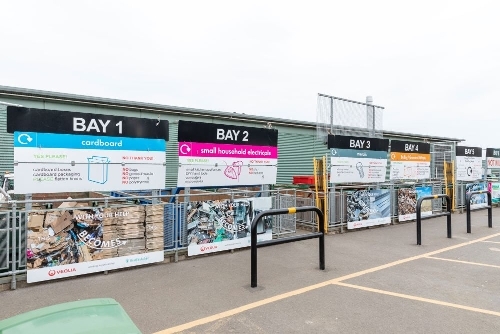 We are pleased to announce that the availability of appointments at our Household Waste Recycling Centres (HWRCs) across the district will increase in order to improve the service for all.
This collaboration with our waste contractor, Veolia, will provide more flexibility and capacity during the most popular time slots for residents and comes just in time for the summer season and the upcoming bank holiday. Additionally, to better serve the community, our Newtown Road HWRC has extended its operating hours on Thursdays, closing at 8:00pm until September.
With a total of 628 daily appointments now available at Newtown Road and 488 at Padworth Lane, we aim to accommodate more residents and make recycling more convenient than ever before.
Cllr Adrian Abbs, Executive Member for Climate Action, Recycling, and Biodiversity at West Berkshire Council, expressed his thanks to officers for implementing the change so quickly after his request, saying:
"I am pleased to announce the extra capacity this expansion offers in our appointment system for the Household Waste Recycling Centres.

"Our aim is to make recycling more accessible to our community and remove the small amount of negative feedback we have had about getting an appointment. This extra capacity should ensure everyone can actively participate.

"We encourage all residents to take advantage of these enhanced services and work together towards a greener and cleaner future."
Our Household Waste Recycling Centres are fully equipped to accept a wide variety of waste materials for recycling, the knowledgeable staff are readily available to assist residents in responsibly disposing of their waste.
With the increased number of appointments and extended summer hours, we are making it even more convenient for residents to participate in their recycling efforts. We already offer comprehensive recycling options for various materials, including paper, plastic, glass, electrical items including vapes and more.
To access the Household Waste Recycling Centres, residents are required to register for a permit beforehand. Non-residents can visit the centres by paying £7.77 per visit upon arrival. All visitors must book an appointment to ensure a smooth and efficient recycling experience.
For more information and to book your appointment, please visit: www.westberks.gov.uk/hwrcinfo.
Last modified:
07 August 2023
12:59