Finally...some rain!
Find out how the preparations at Faraday Road are coming along and what the plans are for a club house and fencing.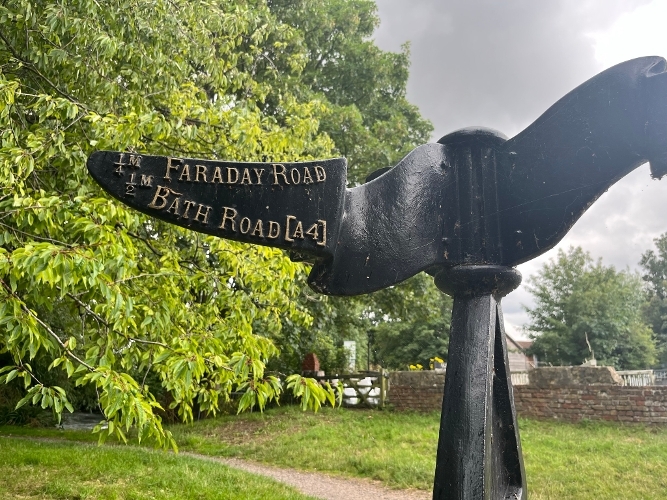 Disrupted play at the Ashes! And at Wimbledon last week the covers were on, and then off again, and on and off and so on. So that means rain, which in terms of Faraday Road pitch preparation, is a very good thing.
Last week I looked over the site with a colleague from our Highways team who is helping to sort out the football accommodation unit and fencing. More about that below. The pitch is showing some signs of improvement, it is a little bit greener which means there is grass growth and so that means we can progress to the next step.
The pitch received another cut this week and we now have a provisional date for the herbicide treatment for on or around the 21 July. We have had some enquiries about the use of herbicides, bearing in mind the nearby river corridor. To repeat what I said in a previous blog, use of herbicides is something we avoid here in the Countryside Service unless it is absolutely necessary. However in this case, it's absolutely necessary. There are measures we will take to avoid spray 'drift', fundamentally using skilled specialists in this area of work. Herbicides will be applied only on calm days, and at times which avoids rain and extreme heat. Careful application and proper equipment avoids treating non target species along the river corridor which is about 20 meters away.
Back to the issue of the accommodation (changing rooms) block. My colleague Ashley Palmer from the Highways team has sourced a re-provisioned, anti-vandal sports changing room which will be refurbished, delivered to the site and plumbed into the existing services. This provides adequate space for 2 teams, showers and toilet facilities, the only question remaining being what colour should it be painted. Green or light grey we thought, the latter appears to match the surrounding building colour.
Ashely has also sourced the necessary fencing, 4m high along either end of the pitch behind the goals but with higher 'ball catch' fencing behind either goalmouth so as to stop the kind of wayward shot I might have taken back in the day.
A word about timescales. Delivery on some of these items is uncertain at the moment and were at the mercy somewhat of the electricity supplier who will have to connect everything up once it arrives.
As far as the pitch is concerned were behind schedule due to the dry weather but we will be able to progress quickly to the next stage now that we have had some rain and there's grass growth.
---
Did you know that Paul is also providing regular updates from the site on our YouTube channel? This week's video is online - subscribe to our channel to see future updates alongside other new content from West Berkshire Council.
Last modified:
18 July 2023
10:35