Between a Rock and a Hard Place
Find out why the current dry spell makes our preparations of the pitch more challenging.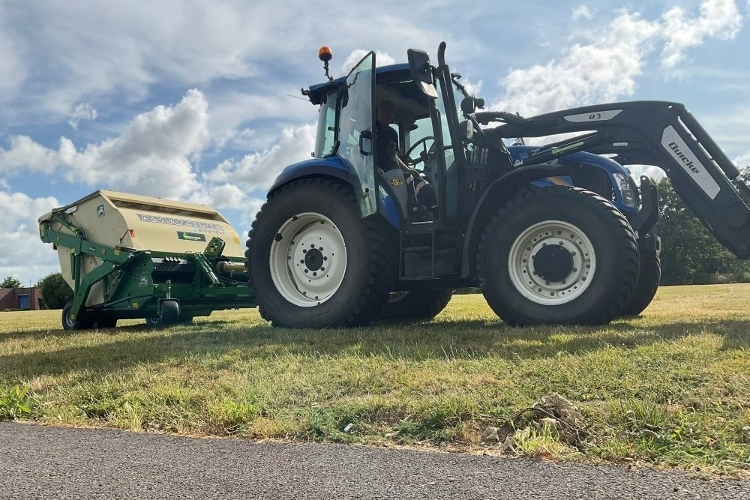 I got to thinking in the days after the Glastonbury Festival how ironic it is that the rain that normally coincides with the UK's biggest outdoor music festival hasn't materialised again this year. In my last blog I did apologise to those sun worshipers out there for wishing rain upon us, at least at Faraday Road, but it's now a critical factor in making progress with this project.
Monday morning saw our contractors back on site to carry out another cut and collect operation. This time taking the sward down to as near 60mm as possible. The whole ground is now very dry, in fact its rock hard in places and we still have to be careful not to kill the grass sward. We are literally stuck between a rock and a hard place. Under the current weather conditions we cannot progress to the next stage of the pitch preparation - whilst we are of course still mindful that the football season will start in September.
The planned herbicide application, which if you recall is necessary to remove all broadleaved weeds from the sward, has been postponed. There's just not enough moisture in the soil to sustain weed growth, and if the weeds are not growing then they won't absorb the herbicide. If we get some sustained rain then we are on standby to send a contractor to the pitch to begin this operation. Hopefully we can capture this is a future video blog and put some minds at rest as to the chemical we are using. At this point however its worth stating that any chemical used will of course be safe to use in public spaces and near watercourses, and will be applied in a way which minimises drift and therefore volume of chemical.
Despite postponing herbicide application, there is other work which we are progressing.
Colleagues in our highways team are developing our plans for fencing adjacent to the pitch so as to keep the ball, as far as possible, within the playing area. We are also exploring options for shower, changing and toilet facilities which will be required prior to the season starting. This will bring the facility up to a standard suitable for Saturday and Sunday league football. In fact we will probably bring a league representative down to talk through our plans again in due course just to ensure what we meet stated requirements.
I will say a bit more about these facilities in a future blog so watch this space.
Finally, as some of you may know, or will recall, the Faraday Road Pitch was originally built on top of a municipal rubbish dump. As this material moves and shifts in the subsoil, dips and hollows appear in the surface. This is part of the challenge of making this site league football ready.
Talking to some residents who remember football being played here and some who actually played, hollows in the pitch were an annual challenge for the maintenance team. There are a few significant dips and hollows on the pitch surface currently which we will deal with as part of the topdressing process. Again however that's a discussion for another day and we will keep you posted.
Fingers crossed for rain soon.
---
Did you know that Paul is also providing regular updates from the site on our YouTube channel? This week's video is online - subscribe to our channel to see future updates alongside other new content from West Berkshire Council.
Last modified:
29 June 2023
13:21