Pilot of car sharing initiative Liftshare launched
It's good to car share - for yourself, the planet and your bank balance!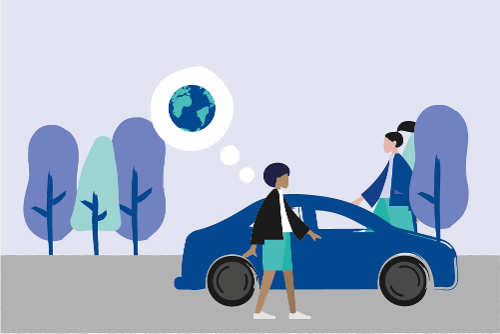 Liftshare, a car sharing platform, has been launched as a pilot scheme for local residents in East Garston, Chaddleworth, Great Shefford and Hungerford.
If you are often travelling alone and wondering how inefficient it is when others are probably doing similar journeys, or you need to be somewhere and just don't have the means to get there and could do with a lift, then this could be for you!
Sharing journeys using the 'Liftshare' scheme is flexible and you only share with people who you choose to connect with - you remain in complete control. Only residents with West Berkshire postcodes can sign up to the group so it's very much a local initiative which will give residents the confidence to try it out. This is a positive step for the community, the environment and your bank balance too!
Residents who live near or travel to the areas included in the pilot are invited to find out more and give it a go by signing up for FREE here: https://www.westberks.gov.uk/liftshare.
For it to work, those who are happy to share their journey need to sign up as well as those who would benefit from receiving a lift - otherwise the matching up doesn't happen.
There are ways of ensuring the costs of travel are shared and as you log your journeys the system will work out collectively how we are helping to reduce the negative impacts on our planet. Obviously it is even better if you are travelling in an electric car.
The journeys you choose to share could be a trip to a local centre for shopping, going to church or accessing various other facilities. You can use Liftshare to attend a popular event or a sports fixture or it could be for work purposes. It's up to you.
Cllr Steve Ardagh-Walter, Executive Member for Environment and Transformation at West Berkshire Council, said:
"I am really pleased to be able to introduce West Berkshire Liftshare and to work alongside our communities as we undertake this pilot.

"Car sharing through the Liftshare platform is all about saving money on travel, reducing our carbon emissions and helping to ensure our communities have access to the places they need to visit. It's easy and free to register and I encourage everyone to consider giving Liftshare a try.

"The more people who sign up and log journeys they are willing to share, the greater the chance of someone being able to successfully make a match. The pilot areas were chosen due to the local interest shown in this type of initiative. Let's see what we might be able to achieve together!"
For more information about the pilot initiative that is being launched for the communities of East Garston, Chaddleworth, Great Shefford and Hungerford, visit the West Berkshire Council website: https://www.westberks.gov.uk/liftshare now. You can find answers to some frequently asked questions and the link to sign up for 'West Berkshire Liftshare' on our website too.
If you have further questions about Liftshare, please do contact our Environment Delivery Team via email: environment@westberks.gov.uk and they will be happy to answer your questions.
Last modified:
26 May 2023
10:10