London Road Industrial Estate (LRIE) to be renamed Bond Riverside
Unveiling of new name celebrated at Identity event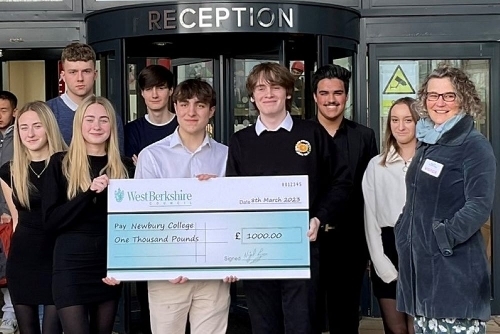 Competition winners were announced yesterday afternoon (Wednesday 8 March) at our Identity Project and Urban Design Careers event for their innovative entry to rename the LRIE in Newbury to 'Bond Riverside'.
Due to the snow the event had to be moved online.
Chief Executive of West Berkshire Council, Nigel Lynn, and Leader of the Council, Cllr Lynne Doherty, announced the winners of the competition and in doing so the new name for LRIE. They will award the winning team their prizes in person soon.
The LRIE Identity Project was a competition aimed at 16 to 18 year olds in which schools and colleges across West Berkshire were invited to put forward their visions for the rebranding of the London Road Industrial Estate. The objective was to involve a younger demographic in the process of creating a new identity for the industrial estate as well as give them real world project experience.
In total 5 submissions were received from different groups across the district with the level of quality in the submissions showing a great deal of hard work, research and dedication by all students involved.
In mid-January, a judging panel came together to decide the winning submission. The panel consisted of Cllr Ross Mackinnon, Executive Member for Finance and Economic Development at West Berkshire Council, Wayne Hemingway of Hemingway Design, a property expert from Alder King Property Consultants, and Eric Owens, Interim Executive Director for Place at West Berkshire Council.
The winning students, Molly, Xander, and Toby from Newbury College, have not only won £1,000 cash for their college, but now also earn a historical prize of proudly having their name 'Bond Riverside' as the new name for the industrial estate. They came up with 'Bond Riverside' to celebrate not only the history of the site but the wider area. With links to world famous author Michael Bond who was born in Newbury it both gave a glimpse into local history as well as the global reach of existing and future businesses on the estate.
At the careers event, Wayne Hemingway shared his industry knowledge with an audience of students and teachers. He covered his career path as well as how others could also get into urban planning and design. The talk was well received and garnered many questions from the audience.
Cllr Lynne Doherty, Leader of West Berkshire Council, said:
"Congratulations to Molly, Xander, Toby and Denis from Newbury College for coming up with Bond Riverside, a great new name for one of West Berkshire's key employment sites. Their presentation, creativity and team working will set them up perfectly for future careers.

"I would like to thank all those involved for their help with promoting the competition, and to those schools and colleges who took part. The level of engagement we have had from our students has been great to see. The submissions showed promise and a great deal of hard work from the all involved.

"I hope that this can be a gateway into future local projects involving more collaboration between us and our local young people in school or college."
Last modified:
24 March 2023
11:50