Secondary school places
98% of children get a preferred secondary school place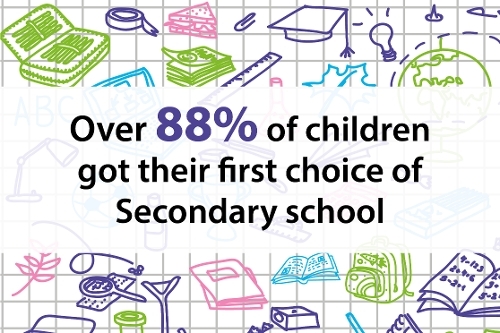 98% of Year 6 children in West Berkshire have been offered one of their secondary school preferences with just over 88% being given their first choice of school.
1,631 West Berkshire children have received an offer of a first preference school. The percentage of first choices remains just above 88% as it has done for the last 4 years. This compares favourably nationally where the first preference rate in 2022 was 83.3%. The national rate for children receiving a preferred school offer is 95.8%, lower than within West Berkshire.
Cllr Dominic Boeck, West Berkshire's Executive Member for Education, Children and Young People says:
"Moving up to secondary school is a huge jump for both children and parents.

"With these challenges in mind, we always try very hard to offer as many children as possible their preferred school and I'm very pleased that, once again, we've been able to maintain our high percentage of preferred secondary school allocations.

"We wish everyone the best of luck with their move up to secondary education."
Last modified:
01 March 2023
11:33