A Tree of Reflection and Remembrance
Guelder Rose trees planted in commemoration of the start of the war in Ukraine.
on
23 February 2023
16:12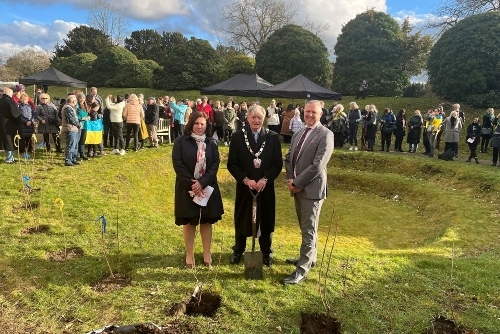 On Wednesday 22 February, we planted beautiful Guelder Rose trees in commemoration of the start of the war in Ukraine. The Guelder Rose is one of the national symbols of Ukraine and bears vibrant red fruits in Autumn/Winter and delicate white blooms in Spring/Summer. Overtime these trees will grow to become a wonderful crescent shaped hedge surrounding the amphitheatre within Shaw House Community Garden.
The ceremony included a welcoming speech from Cllr Rick Jones, Chairman of West Berkshire Council, and a poem read by Cllr Lynne Doherty, Leader of the Council. This was followed by planting three of the Guelder Rose trees by Cllr Jones, Cllr Doherty, and Nigel Lynn, Chief Executive of the Council. Ukrainian guests and hosts were then invited to tie yellow and blue ribbons on the branches to symbolise our support for Ukraine.
Cllr Rick Jones said:
"Some 500 Ukrainian guests have been welcomed to West Berkshire and have made this their temporary home. These guests have been supported by many kind and generous hosts and by my colleagues and many others here today.

"We stand together, Ukrainian guests, hosts and colleagues from the Council, voluntary sector and beyond to mark this sad anniversary. We do not know what the future holds but we do know that West Berkshire will stand with our Ukrainian guests as we go forward."
Last modified:
26 May 2023
10:02