Let's scrap fly tipping
Cracking down on littering and fly tipping in West Berkshire
on
23 February 2023
14:22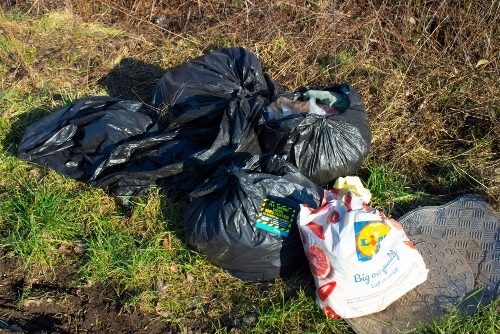 We are implementing a number of measures aimed at protecting the beauty of the natural environment within the district, and minimising incidents of littering and fly-tipping.
Keep Britain Tidy, a national environmental charity, estimate that two million pieces of litter are dropped in the UK every day and the national cost to tax payers for street cleaning is over £1 billion a year. In West Berkshire, specifically in 2022, we collected 400 tonnes of litter through litter picking activities and from our public litter bins. We have over 600 litter bins across the district plus we litter pick and sweep the equivalent of 860 miles of road space per year. However, littering and fly-tipping remain frequently reported problems and this results in increased use of the Councils time and resources in clearing up incidents. Fly tipping, which can range from a small single bag to an entire truck load of rubbish, is a blight on the countryside and costs tax payers' money to clear this up. In 2022, there were 966 incidents of fly tipping reported to the Council, which amounted to 136 tonnes of waste.
Even though fly-tipping levels in West Berkshire are lower than the national average, we are determined to minimise incidents and offences will not be tolerated. The Council has recently employed two Waste Enforcement Officers to help tackle fly tipping and littering across the district. We are rolling out an anti-littering and fly tipping campaign which will enable us to share messages with our local residents and businesses about how we can work together to minimise littering and fly-tipping. As part of this campaign we will have relevant posters installed at selected bus stops in the district and also have similar messages on the livery of our waste collection trucks. Our Enforcement Officers will be out on regular patrols across the district to deter and investigate offences.
Councillor Steve Ardagh-Walter, Executive Member for Environment and Transformation at West Berkshire Council, said:
"West Berkshire is a beautiful place to live, work and visit but unfortunately the Council has to spend some of its resources clearing up littering and fly tipping due to the careless acts of a small minority of people.

"We ask that people should use available litter bins responsibly and if litter bins are full that you take your rubbish home with you and dispose of it in your kerbside bins.

"We hope that by increasing our presence and communications this sends out a clear message that fly tipping and littering will not be tolerated within West Berkshire. We will not hesitate to take action against those found to be breaking the law and ruining our beautiful district."
We are also asking residents to make sure they check that any trader offering to take waste away for you is a licensed waste carrier. It is equally worth noting that leaving bags of donations or waste outside of charity shops, or next to litter bins and recycling banks can all be considered fly tipping and you could be fined or prosecuted. Dispose of your rubbish the right way, visit: https://www.westberks.gov.uk/dutyofcare for more information.
Last modified:
26 May 2023
10:09