Apple crumble anyone?
Local community comes together to plant fruit orchard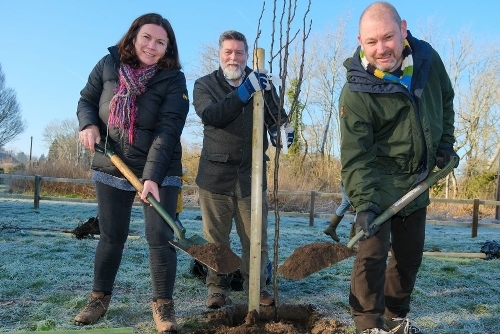 On Saturday 21 January, local residents, councillors and council staff members turned up on a frosty cold morning with their gardening gloves and spades to help plant a new community orchard in Newbury.
The green space site at Poplar Place/Almond Avenue is owned by West Berkshire Council and is a popular open space for recreational use with play areas and space for dog walking. The orchard site is not used for a specific purpose and is large enough to create an orchard whilst leaving sufficient open space.
The site is also close to the River Lambourn with fertile soil which is ideal for planting, and the fruit trees will create a natural habitat for pollinator species and wildlife already living around the river. It is hoped the orchard will be an attractive addition to the open space with blossom on show in the spring.
The orchard will be of benefit to the whole community, including nearby residents and organisations such as the Scouts and Dingley's Promise based in Poplar Place, as well as visitors to the area who can take advantage of the fruits growing for their own personal use. We will have signs up explaining what fruit varieties have been planted, when they are ready for harvesting, and how they can be used.
Cllr Richard Somner, Executive Member for Planning, Transport and Countryside at West Berkshire Council, said:
"We were really pleased to see so many people come along and support the community orchard project on Saturday. It was especially wonderful to see the next generation getting involved too, as they will see the fruits of their labour blossom in years to come.

"It was clear from talking to the community on the day that everyone is really keen to be involved and are looking forward to seeing the orchard be a success.

"I'd like to thank everyone who came along to help plant the trees. This has been a great collaboration to make this attractive addition a reality.

"So many people have worked hard behind the scenes. Wessex Woodland Management Ltd supplied the trees and designed the orchard, our grounds maintenance contractor, Continental Landscapes Limited dug the tree pits, and our waste contractor, Veolia, provided the soil conditioner which is made from the food and garden waste that we collect from households within the district. This is such a great example of what can be achieved by working together and everyone involved should be very proud."
Nathaniel Dove, Forest Works and Ecology Manager at Wessex Woodland Management Ltd, said:
"It was an absolute pleasure working in partnership with West Berkshire Council. The team were great to work with and they have done a fantastic job in both coming up with the idea of the community orchard and implementing the plan.

"Initiatives such as this community orchard represent a perfect example of how we can simultaneously combat the impacts of the climate and biodiversity crises whilst keeping the land in production and encouraging a more active and healthy lifestyle in the local community.

"It was great to see so many interested members of the local community getting active and helping out on Saturday. I really hope the orchard thrives and that the community interest continues to grow, and with it the possibility of more community orchards to come in the future."
The development of community orchards through tree planting is one of the carbon sequestration measures identified in the Council's Environment Strategy.
This is a pilot project and we would like to create other community orchards on land owned by the council or our partners. More information on community orchards can be found on our website: https://www.westberks.gov.uk/communityorchards.
Last modified:
25 January 2023
11:57