Thatcham Flood Alleviation Schemes
An update on where we are to ensure Thatcham is protected from flooding.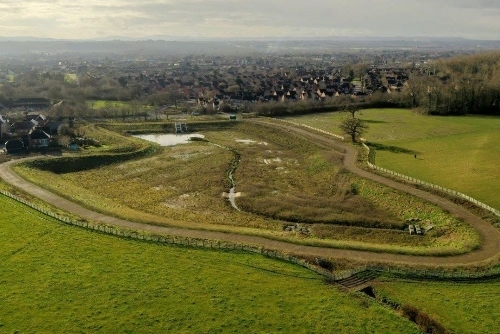 Following the devastating floods in 2007 in and around Thatcham where approximately 1,200 homes were flooded, West Berkshire Council has been working in partnership with a number of agencies, local stakeholders, and businesses, to ensure that Thatcham is better protected from possible future flooding.
To date, construction work has been completed at Cold Ash Hill, Tull Way, Floral Way and South East Thatcham, protecting 913 properties from the impact of surface water flooding via our Flood Alleviation Scheme.
The next phase of the scheme will involve the construction of three flood attenuation ponds at Bowling Green Road, Heath Lane and East Thatcham. Initial works for these three areas are set to start later this month (January 2023) and will involve vegetation clearance and the construction of entrances into each site.
The main construction project is scheduled to start in late March 2023. Once completed, this will protect another 107 properties from the impact of surface water flooding. These works will significantly contribute to the completion of the Thatcham Surface Water Management Plan.
We will be undertaking a public consultation exercise later in the summer of 2023 before submitting a planning application for the next scheme, Memorial Fields. Construction work is programmed for 2024, subject to the necessary approvals being granted.
Cllr Steve Ardagh-Walter, Executive Member for Environment and Transformation at West Berkshire Council, said:
"We have identified and reviewed various options, taking into account climate change, and developed an action plan to reduce flood risk, with our next three projects starting very soon.

"Reducing the impact of current and future risks of water flooding is a priority for us in Thatcham and our Flood Alleviation Schemes in these key hotspots have helped reduce the risk of surface water flooding to protect people's homes and businesses.

"Memorial Fields is the final project and once the consultation opens in the summer, I would encourage everyone to take part and have their say to ensure appropriate schemes are implemented to protect properties."
Details of the approved planning applications for Bowling Green Road, Heath Lane and East Thatcham can be viewed on our Planning Portal using the references below:
Last modified:
19 January 2023
14:49