New consultation launched on future of Notrees Care Home
A consultation on a proposal to close Notrees Care Home in Kintbury by December this year has gone live. The proposal is due to the changing shape of demand for Adult Social Care in recent years and the impact of the pandemic on the needs of older people.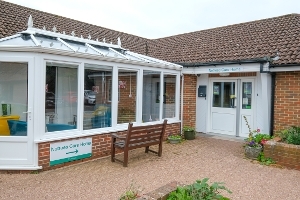 West Berkshire Council has launched a consultation on their proposal to close Notrees Care Home in Kintbury by December this year. The proposal is being made principally due to the changing shape of demand for Adult Social Care in recent years, in part, due to the impact of the pandemic on the needs of older people.
The Council currently manages three care homes in West Berkshire; Birchwood, Willows Edge, and Notrees. When fully occupied they can provide nursing and residential care for 115 people over the age of 65, who have been assessed as requiring 24 hour care. The homes employ approximately 140 permanent staff, with a heavy reliance on agency and casual staff, to ensure that safe staffing levels are achieved.
In recent years, there has been an increased demand for complex dementia care with care home residents becoming more dependent and having more complex needs. The need for 'ordinary' residential care is growing more slowly than other needs and there is significant market capacity in West Berkshire and nearby homes. Currently only 40% of care home beds in West Berkshire are for dementia needs and these are at over 90% capacity. While general residential places, which make up 30% of available places, are operating at only 78% capacity.
At Notrees, there is space to accommodate 18 residents and currently 10 residents are being cared for. The closure is being proposed due to a reduced need for the type of care provided, the challenges presented by the rural location, particularly with staff recruitment and retention, and the size and condition of the building.
Notrees residents and their families would be supported to relocate to one of our other care homes, or an alternative private service, as appropriate. Wherever possible, existing staff would be redeployed to one of our remaining two care homes, reablement service or similar.
Paul Coe, Service Director for Adult Social Care at West Berkshire Council commented,
"As part of this consultation, we will be speaking directly with current residents and their families, staff who are directly affected, and other local stakeholders. We will work to understand each resident's priorities and preferences and will assist them and their families to identify and secure an alternative, appropriate care placement. All of our other care homes currently have multiple vacancies, and residents would be offered a place in one of these, in the first instance."
The last decade has seen greater integration of memory care into building design with adaptations to improve care for those with dementia and Alzheimer's. It is expected that COVID-19 will have a similar legacy with new care homes built with wider corridors to help enable social distancing; larger rooms with en-suite and wet room facilities as standard to aid resident isolation; adapted fixtures and fittings to limit touch points; and safer visitor areas with enhanced communication systems.
They will also be expected to be designed to allow space for modern equipment and to include ample leisure and living facilities.
Councillor Jo Stewart, West Berkshire's Executive Member for Adult Social Care says,
"West Berkshire Council is committed to continuing to run care homes for older people and we plan to invest in creating a new specialist provision in a central location, which we aim to open in the next five years. We are currently commissioning a feasibility study, to explore whether it would be better to build new or to purchase an established facility. This will also help to scope the ideal configuration of the proposed new home to best meet the anticipated needs of residents, now and in the future."
The council invites feedback from local residents who can comment by completing our short survey by Wednesday 8 June 2022. Full information about the proposal and a link to the survey are available here: The Future of Notrees Care Home, Kintbury.
An information pack and hard copy of the survey is also available on request by calling West Berkshire Council on 01635 551111.
All feedback will be considered and a recommendation submitted to the Council's Executive Meeting on Thursday, 22 September 2022.
Last modified:
06 March 2023
16:35