A necessary evil!
Find out how the we are preparing the land for sports at Faraday Road including the weed killing process.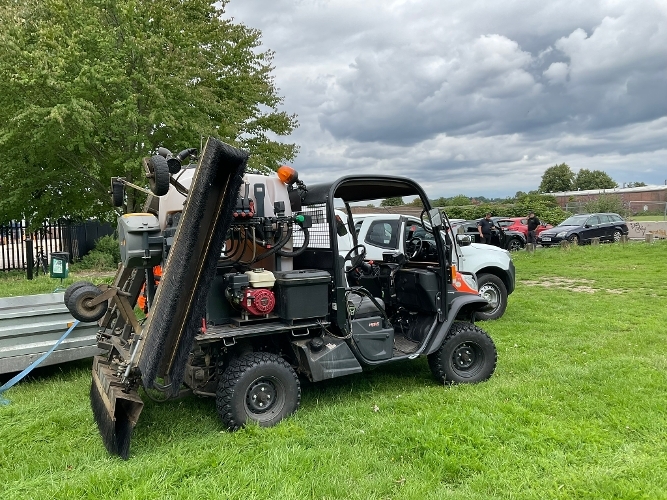 I'm often asked in the course of my work, what is a weed? A pertinent question. If we consider what most people refer to as weeds, we in Countryside Service will promote as wildflowers. We are for example, currently working with the local wildlife trust, BBOWT, on a Wildflower Verges Project in order to identify key wildflower locations, and to promote a more sustainable grass verge maintenance regime across the District.
So, in answer to the question then, a weed is a plant which is growing in the wrong place. It could be the most exotic cultivated plant species but if it's growing in a fine turf lawn then it's most definitely a 'weed'.
You may be asking, what has that got to do with the preparation of a football pitch at Faraday Road?
You'll recall from my previous blogs the desire for rain which is critical to keeping this Project on track. Well over the last few weeks we've had plenty, and as a consequence there's been some growth on the pitch, not just the grass we desire but also the broadleaved weeds which we don't. Formerly, when the site was an open space, cut as a meadow, we would have welcomed those 'weeds'. However, the intention has now changed and its fine grasses we want to encourage.
We have therefore been waiting until we have had a period of sustained rain and vigorous vegetation growth in order to apply a chemical herbicide. Growth is required as herbicides work by moving (translocating) through a growing plant from the leaves to the roots which then die off. I've said it before elsewhere and I will restate the point here; as a council and as officers of the Countryside Service we do not like applying herbicides, it is always a last resort. As part of pitch preparation however it is a necessary evil.
Of all the operations we're carrying out on this pitch, herbicide application is the one which has generated the greatest number of enquiries coming across my desk. The main concern being the proximity of the river corridor nearby, some of which is designated as a Site of Special Scientific Interest. None of us involved in this project want to over apply herbicides unnecessarily and we avoid this by a number of means. Please check out our latest video blog for more detail.
Firstly, we're using a chemical which requires only a very low dose rate that means that only a small amount of the active chemical, highly diluted, is required to be effective. Secondly, the means of application is such that the spray is contained in a very narrow target area. The presence of brushes and a hood over the spray boom significantly limit the opportunity for drift. The brushes have an additional function and that is to make sure the chemical is applied evenly. Finally the application area is marked with a visible inert foam so that the operator doesn't apply the chemical to the same area twice.
Note that the chemical used is specific to broadleaved weeds, we're not killing off the grass too, that of course would be counter productive
Trained professionals were on site last Friday to carry out the spraying operation. It took less than an hour. We now must leave the grass to grow before we lightly cut the pitch again in a week or so. We cannot use these cuttings as compost so they will be left on the pitch, whereas previously you may recall, we have been composting these at a nearby depot.
The next operation, again weather dependent, and dry weather would be ideal, is to scarify and dispose of all the dead material. After this is complete, we will be in a better position to assess the extent of the next phase of preparation, that is top dressing and over seeding. The timing of this is uncertain but we will keep everyone posted on this in due course. We are behind schedule by a few weeks due to the very dry hot weather, however we do need to work with the elements rather than force our will on nature.
So what about the wildflowers we've lost? Well, we're going to look at opportunities to promote wildflowers in the grass sward adjacent to the Faraday Road Pitch as mitigation. There's definitely an opportunity to change our open space grass regime to achieve this.
---
Did you know that Paul is also providing regular updates from the site on our YouTube channel? This week's video is online - subscribe to our channel to see future updates alongside other new content from West Berkshire Council.
Last modified:
28 July 2023
14:43